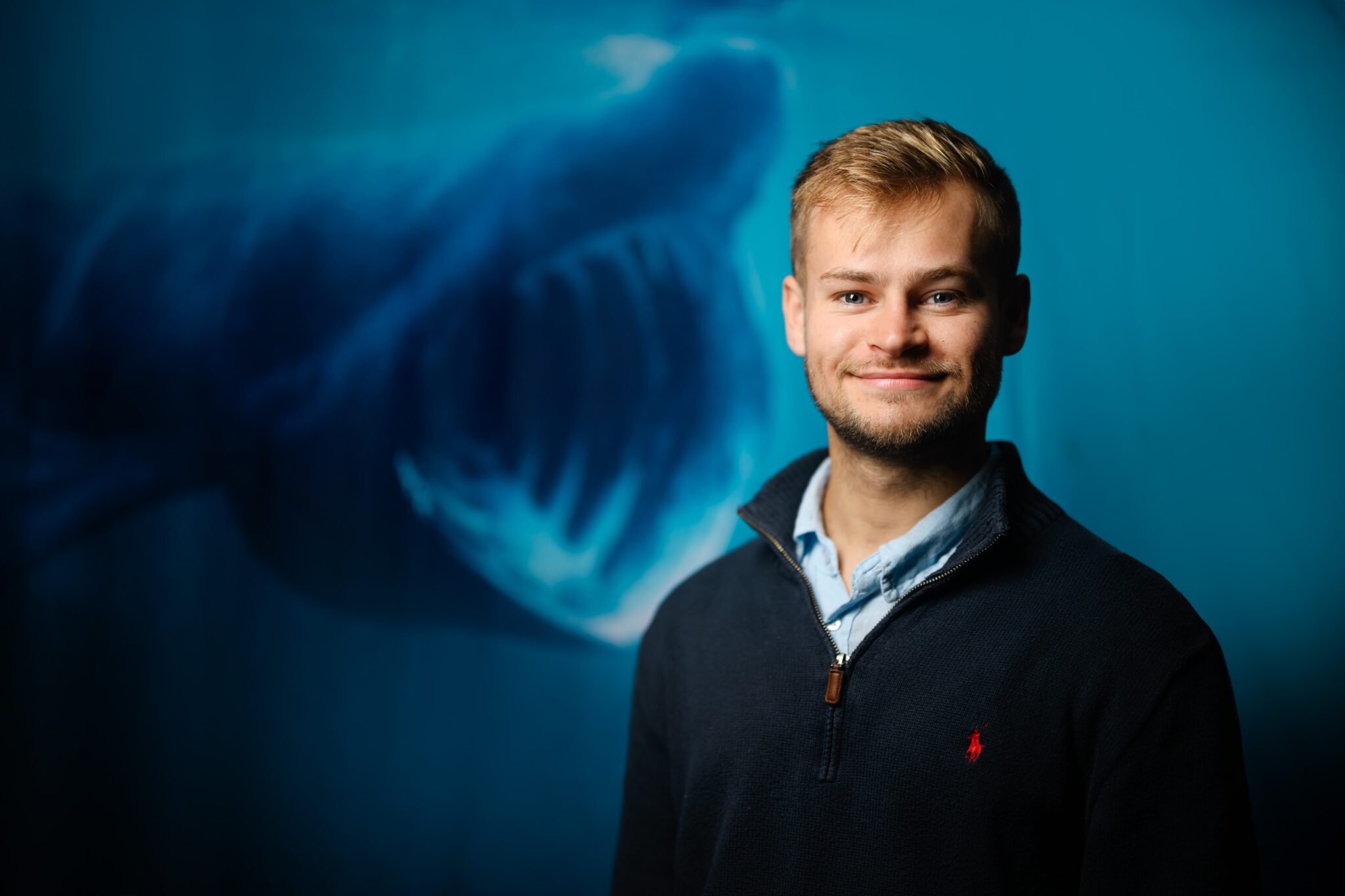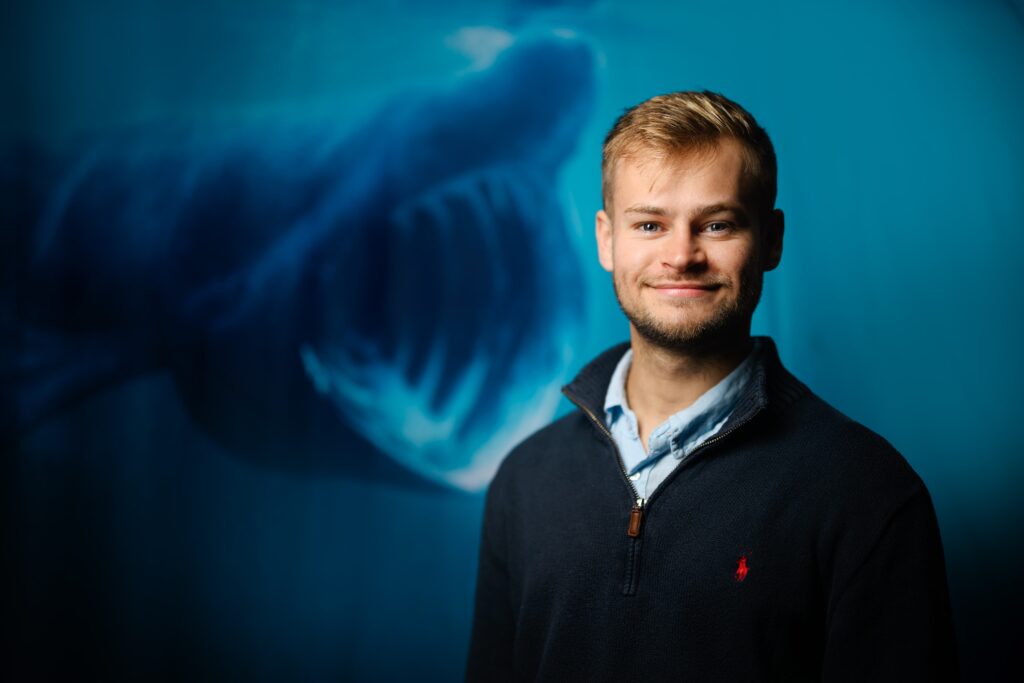 Today we are celebrating Marine Biology MRes graduate Max Kimble!
During his placement at the Marine Biological Association (MBA) Max worked in the Sims lab, creating a species distribution model for the tiger shark (Galeocerdo cuvier) in the North Atlantic. Max looked at over 121 shark movement tracks, combined with satellite data, to reveal the secrets of tiger sharks.
Now he has completed his placement, Max is setting sail for Raja Ampat, Indonesia and joining Barefoot Conservation as a research officer. Max will be applying his expertise to assess coral reefs, monitor bleaching events and map manta ray environments.
Max reflects on his time at the MBA, fond memories and how he will be taking his newly-learned skills as he embarks on a career in marine biology.
What was your work at the Marine Biological Association?
During my time in the Sims lab I undertook the task of creating a species distribution model for the tiger shark (Galeocerdo cuvier) in the North Atlantic. In recent years tagging studies have revealed that the tiger shark have been observed venturing further north and making seasonal movements earlier in the year. To investigate this further I created a species distribution model which assessed the habitation likelihood of the North Atlantic.
To accomplish this over 121 tiger shark movement tracks courtesy of the global shark movement project (GSMP) were used in conjunction with satellite data and varying modelling methods.
In an attempt to explore the ecology of the animal further, certain biological factors were included such as sex and age.
This allowed the influence of certain factors to be individually visualised (how important different environmental and biological factors are when it comes to deciding whether a habitat is suitable or not.)
My work has added to the growing literature supporting the hypothesis that climate change and warming oceans are driving ectothermic predators such as the tiger shark into more northern latitudes and therefore outside areas where they are protected from overfishing and other anthropologic threats.
What was your favourite memory at the MBA?
My favourite memories were just being around and chatting to some of the most amazing minds I've ever met. It's not every day you walk past someone or have a quick chat with someone who's a world leading expert in their field, but that quite literally is every day in the MBA!
The wealth of knowledge and constant inspiration within the walls of the MBA is honestly breathtaking and I felt so lucky to be able to work within that building.
If I ever felt myself feeling lost or overwhelmed, confused or even fed up, a quick trip to the common room and two conservations later I feel reinvigorated and excited all over again! I've never been in an environment like it, and I cannot wait to return one day.
Any key findings from your research?
Using novel approaches and a wealth of data, my paper took a deeper look into a fairly new research area. This resulted in many interesting findings, some expected and some more thought provoking.
One of the largest and most notable results was the discovery of large intraspecific variation in habitat use among tiger sharks. Although tiger sharks are known to be a sexually segregated species, the degree to which climate change will effect this behaviour was previously unknown, now we know females overall will face the largest challenges in the future.
When comparing the modelled range in tiger shark distributions to the range proposed by the IUCN (International union for conservation of nature), it become increasingly apparent that the habitats proposed by the IUCN were outdated and conservative in their approach.
My results as well as many others in the literature highlighted a much more pelagic nature, stressing the need to update their proposed range to accurately inform policy makers and inevitably afford them more favourable conservation conditions; something desperately important during these rapidly changing times.
What's the next steps for you?
During the closing stages of my Master's degree I was lucky enough to be offered a position with Barefoot conservation as a research officer in Raja Ampat, Indonesia.
During my time there I will apply my knowledge and experience learnt in my undergraduate and fine-tuned during my Masters degree to employ modelling and mapping techniques to better assess the current state of local coral reefs, monitor suspected bleaching events and map the distributary range and environmental conditions experienced by manta rays.
I will be stationed out there for 5 months and upon arriving back in the UK I will be joining OCEARCH in the hope of capturing and tagging the UK's first ever great white shark.