Award-nominated magazine, The Marine Biologist has reached a ten-year milestone.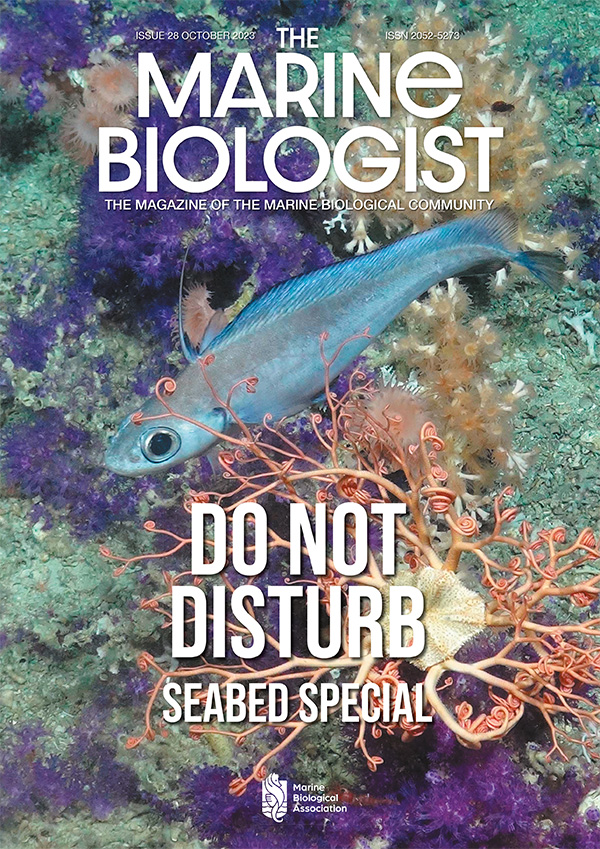 For a decade, the quarterly magazine produced by the Marine Biological Association has covered the latest news in marine biology research, policy, and education.
The magazine, exclusive to MBA members, has published 376 original feature articles in 28 editions, has been viewed over 71,000 times online and has been shortlisted for Best Magazine Launch or Relaunch in the prestigious Memcom Excellence Awards.
Guy Baker, Editor of The Marine Biologist said:
"We have had superb content from day one and since the redesign last year the magazine has truly hit its stride. I like the fact that a young person or marine life enthusiast can see their article published alongside some of the top names in marine biology.
"It's a great feeling when an edition comes together and people get in touch to say how much they have enjoyed reading it. Marine biologists show enormous passion and commitment and as the magazine evolves, I'd like to think more people are being inspired to study and care for the ocean."
"We are incredibly grateful to everyone who has provided fascinating features for our readers. We'd also like to say a huge thank you to our Editorial Board. MBA Members have a product they can really be proud of."
Top names in marine biology have contributed to the magazine, including American marine biologist, oceanographer, explorer, and author Sylvia Earle.
In October's special edition, the magazine will feature highlights from the last ten years, including an update on marine heatwaves from Senior MBA Research Fellow Dr Dan Smale.
In an article published in 2013, Dr Smale highlighted the importance of documenting a wide range of ecological impacts and unusual observations that were attributed to extreme temperatures.
After ten years of continued research, Dr Smale and Professor of Marine Botany Thomas Wernberg revisit the topic of marine heatwaves for the magazine. Marine heatwaves are predicted to intensify in the coming decades, so improving our understanding of these extreme events and their impact on marine ecosystems is vital to predict, adapt and manage risk and reduce the consequences of these events.
In 2013, Lankester Research Fellow Professor Colin Brownlee, FMBA, FLS looked at the challenges and opportunities in marine biology, including the changing global environment, the importance of accurate data and the urgency to share knowledge with society so major undertakings can be made.
In his 2023 update, 'An Ocean Decade', Professor Brownlee readdresses the challenges laid out in his previous article and explores the societal and scientific changes that have impacted our understanding of marine biology.
Professor Brownlee reports that there has been a welcome increase in societal awareness of climate change impacts; but continued knowledge and understanding is vital for the future of our ocean.
He said: "A healthy ocean is essential to the survival and wellbeing of humanity. Marine biological research is indispensable to demonstrate this and to enable society to manage, predict, and protect the huge societal wealth that our oceans provide. Increasing this awareness will be of paramount importance over the next 10 years and beyond."
In The Marine Biologist Podcast we connect with authors of our favourite articles and explore current issues in marine biology in-depth. Listen for free on Spotify.
The magazine is available four times a year in print and online and is just one of the benefits of Membership of the Marine Biological Association.
Members are supported on their journeys in marine biology with a Membership category for anyone interested in ocean life.
As wider society turns to the ocean for solutions to many of the challenges we face, we are looking forward to the next ten years and developing the magazine with our growing membership community.
We welcome original contributions from established professionals and up-and-coming science writers. See our website for details.
Join the MBA today and connect to a global community of marine scientists and professionals.