The Marine Biologist: Latest Issue
The Marine Biologist magazine brings you the latest developments in ocean science, policy, and conservation.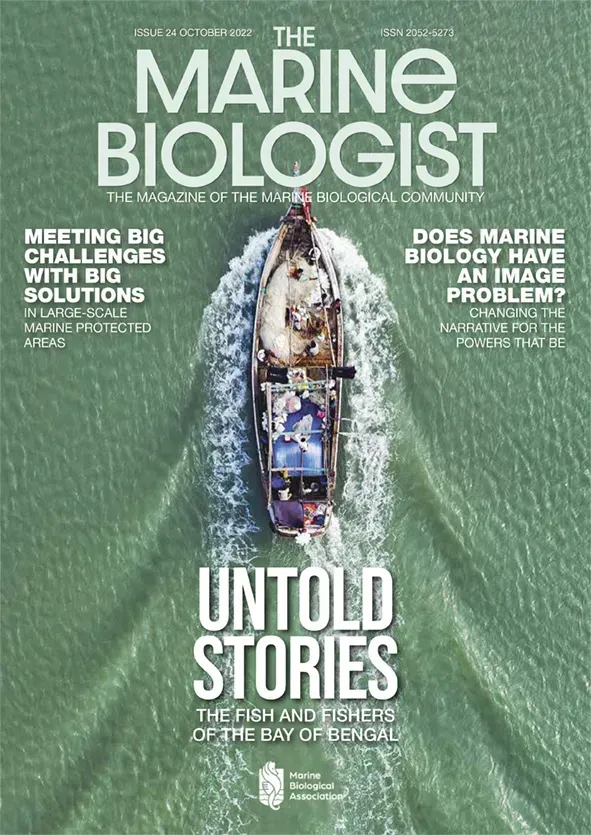 The Marine Biologist has had a redesign! With a fresh and professional new look, the magazine continues to bring you the latest marine life science, features, book reviews, and more from top names in the field.
Our cover feature is the fascinating Untold Story of the Fish and Fishers of the Bay of Bengal by Alifa Haque. Dive in for an insightful read with beautiful images.
In this edition we take a look at marine biology as a discipline, asking: does it have an image problem, and why does the marine biological community need a voice? Access to rewarding careers remains an issue and we hear from the Marine Biological Association's Equality, Diversity, and Inclusion Committee about the barriers to accessing nature and marine science and how we can break them down.
The MBA supports members on their journeys in marine biology. In this edition learn about exciting developments to facilitate and boost communication and network-building for MBA members.
There is a membership category for anyone interested in life in the sea, so for our superb quarterly magazine and a host of other benefits join the MBA today.
The October edition is freely available now – click here to read online.
You can read selected content and catch up with the latest podcast.
MBA members receive four editions a year, additional content, access to our Membership Portal, and a host of other benefits.
Next editions
January 2023 (copy deadline 17 October 2022)
April 2023 (copy deadline 30 January 2023)
July 2023 (copy deadline 17 April 2023)
October 2023 (copy deadline 18 July 2023)
About the magazine
More info
The Marine Biologist Magazine
view our articles
More info
The Marine Biologist podcast
More info
The Marine Biologist Podcast
submit an article
More info
 Guidelines for contributors
Advertise
More info
 Advertise in the magazine
become a member
More info
Can we help?
If you have an idea for an article, would like to advertise on our pages, or have any feedback on the magazine we would be delighted to hear from you.