An important marine monitoring programme will help piece together vital information on a number of critically endangered marine species, including the North Atlantic right whale.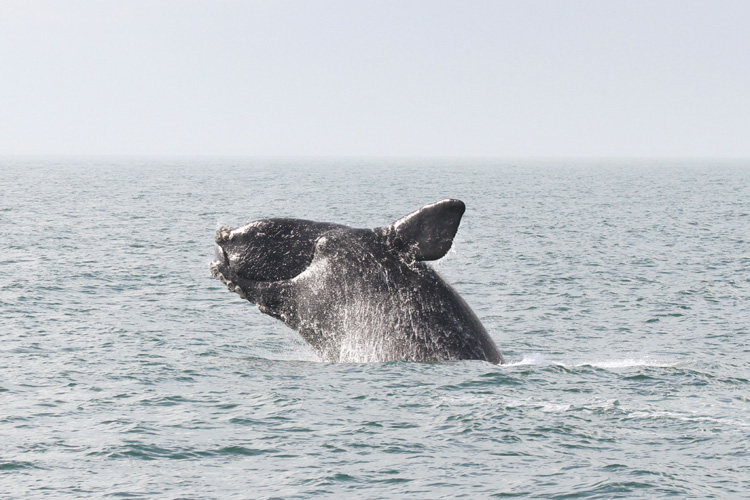 North Atlantic right whales are some of the most endangered whales in the world. Credit: NOAA Fisheries
Thanks to new funding from the National Oceanic and Atmospheric Administration (US), the Woods Hole Oceanographic Institute (US), and the Marine Biological Association (UK) will be working together with NOAA to better understand the health of an area of ocean known as the Mid-Atlantic Bight and how it has changed over time, influencing policy and conservation efforts of these endangered whales.
This area is of significant ecological importance, supporting a complex marine ecosystem. A focus of coastal oceanographic research since the early 1900s, the area supports a wide variety of marine life, including many commercially important and highly endangered species, like the North Atlantic right whale.
Despite their large size, right whales feed on tiny copepods (planktonic zooplankton), straining huge volumes of seawater through their baleen plates. These whales are one of the world's most endangered large whale species, with latest estimates suggesting there are fewer than 350 individuals remaining.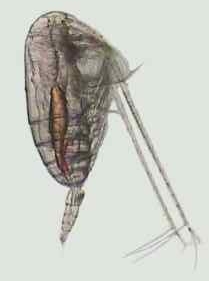 Small zooplankton like this Calanus (approx 3mm in length) are the preferred prey for North Atlantic right whales. Credit Marine Biological Association.
This spring, marine monitoring instruments known as Continuous Plankton Recorders (CPRs) will be collecting plankton samples in the region, helping to provide the big picture on ocean health. CPRs were towed in the Mid-Atlantic Bight between 1976 and 2013, operated by NOAA's Northeast Fisheries Science Center, and between 2014 and 2017 by the CPR Survey. Due to lack of funding, analysis of the samples was paused in 2014, and in 2017 CPRs stopped towing. Retrospective analysis of 2014-2017 samples by the CPR Survey was made possible by funding from Lenfest, which increased the available dataset to 50 years, a substantial time-series for ocean science.
The newly reinstated tow route, known as the MB route, will form part of the international monitoring effort coordinated by the Continuous Plankton Recorder Survey, based at the Marine Biological Association. Established in 1931, the Survey has deployed CPRs in every ocean, covering more than 7 million nautical miles, for which it was recently awarded a Guinness World Records title. Today, the Survey continues to provide unrivalled information on the health of the oceans, with resulting data used to underpin national and international marine policies.
CPRs are simple mechanical instruments that have been used to collect plankton samples all over the world. Designed to be towed behind ships of opportunity (e.g. passenger ferries, cargo ships etc.), CPRs are torpedo shaped metal boxes, approximately 1m long, that filter seawater through a fine silk mesh as they are pulled through the water. The silks are continuously wound on a roller inside, collecting plankton along transects hundreds of nautical miles in length. These plankton-laden silks are then returned to the CPR Survey lab at the MBA in Plymouth, UK and analysed by a team of specially trained scientists.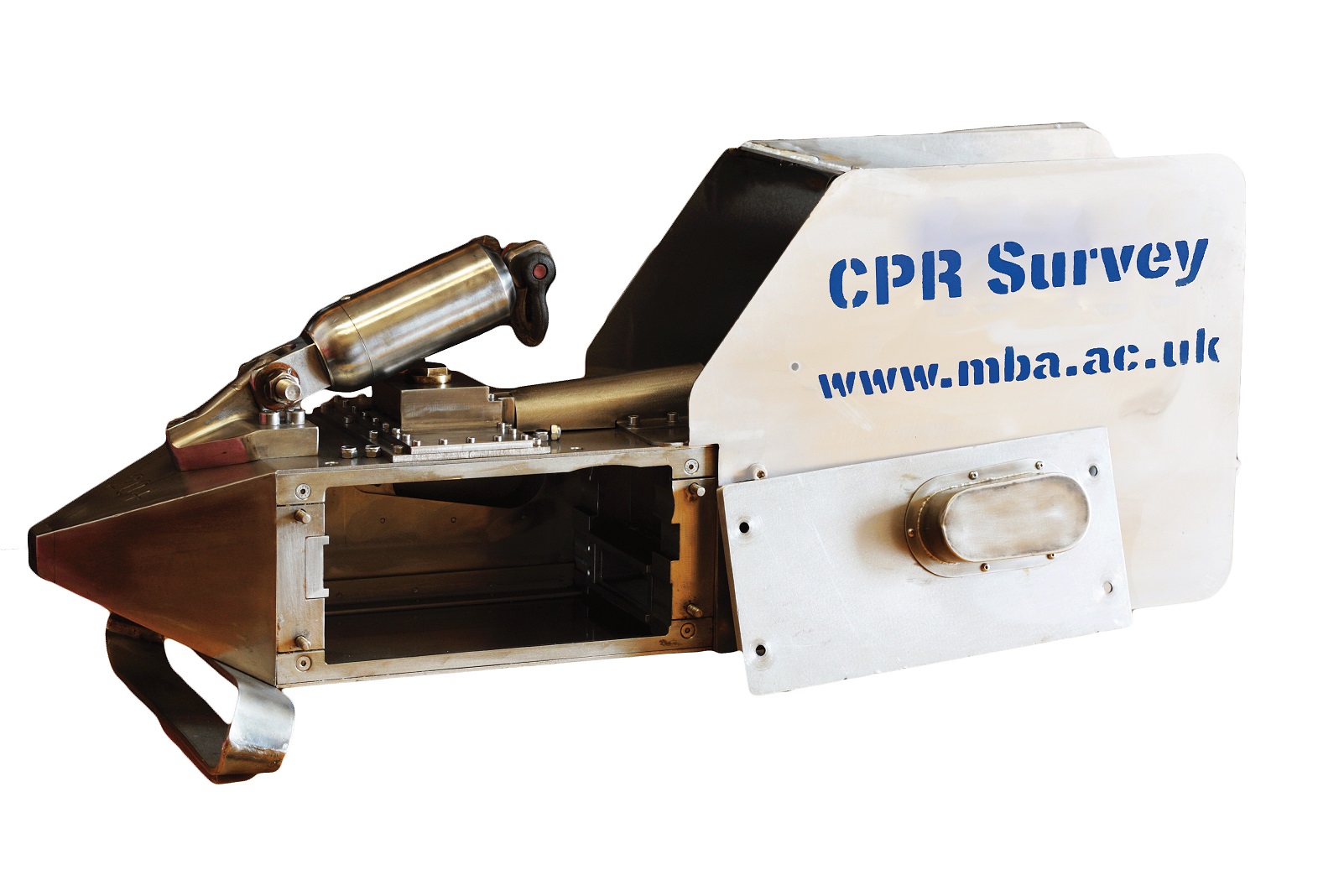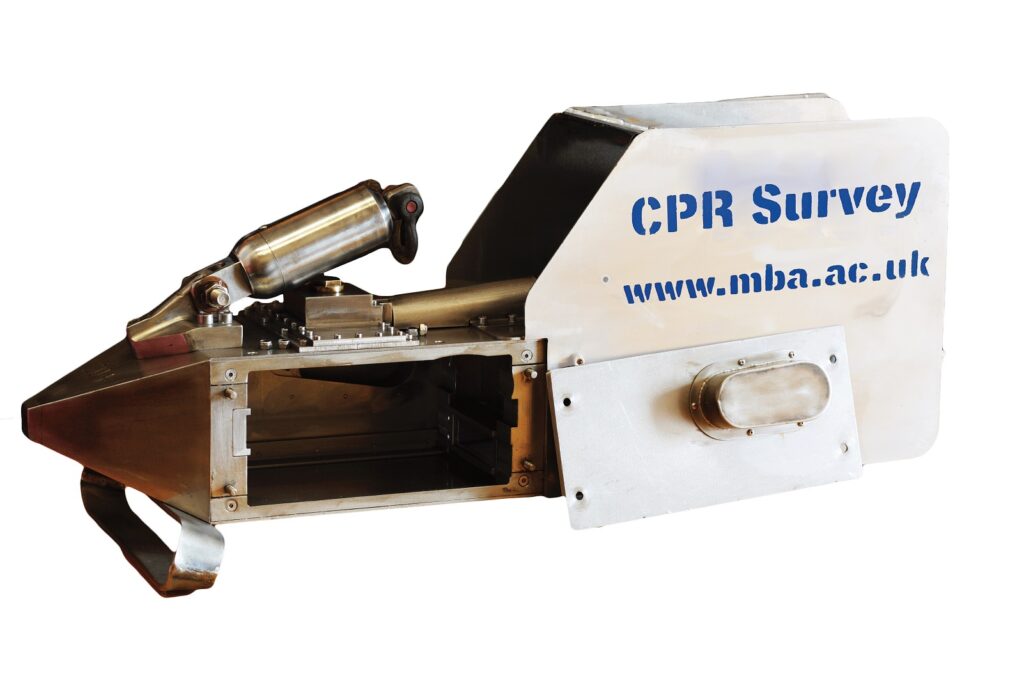 A Continuous Plankton Recorder (CPR). These sampling instruments collect plankton across hundreds of miles of ocean at a time. Credit Marine Biological Association.
Plankton form the centre of the marine food web, upon which almost all life depends. By learning more about which plankton species occur where and in what numbers, and comparing this to historical records, researchers can gain a greater understanding on how areas like the Mid-Atlantic Bight have changed over time.
Head of the CPR Survey, David Johns said "We are excited to finally restart the MB route which runs across the Mid Atlantic Bight. We are working with our US colleagues in Maine, and despite the slight hiatus in the time series, it's good news that we will be up and running soon. Our resulting data will hopefully go towards increasing our understanding of the plankton community in the area, and how it impacts through the marine food web – especially how it links with the ecology of the Northern Right Whale."
Recent research using CPR data found ocean warming, linked to anthropogenic climate change, has resulted in less favourable foraging grounds for right whales, forcing them to move out of protected maritime zones in search of more abundant prey. This has brought them into more contact with human activities, leading to higher mortality rates due to entanglements in fixed fishing gear and vessel strikes from ship traffic. Combined, these pressures are having significant negative impacts on the population of these endangered whales. By looking at the plankton, the food of the right whales, scientists and policy makers can understand what changes are happening, and work to manage and mitigate potential impacts through targeted policies and conservation efforts.In 2018, plankton monitoring was introduced into US policy at a high level as part of the research on North Atlantic right whales. The reinstatement of this route will complement 3 other CPR tow routes in the North West Atlantic, including 1 recently restarted route in the Gulf of Maine, also supported by NOAA and WHOI, as well as other monitoring initiatives such as NOAA's Ecosystem Monitoring (EcoMon) programme, set up in 1992.