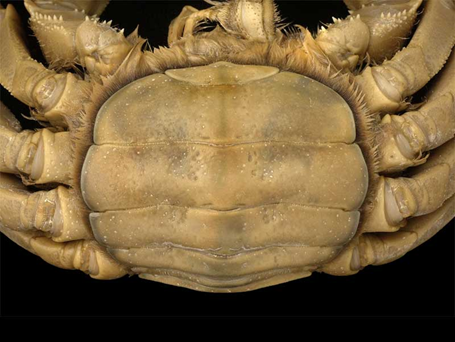 The Chinese mitten crab, Eriocheir sinensis, has caused quite a stir in the last week following new sightings reported in Peterborough.
This invasive non-native species (INNS) was first reported in the UK in 1935 in the River Thames, and currently there are 1137 records across the UK with 982 of these records held by DASSH, the UK Archive for Marine Species and Habitats, at the MBA.
They are a predator to native species and can also cause erosion and siltation, damaging flood defences, when they burrow in sediment banks. However, they pose no threat to people or dogs.
How to identify a Chinese mitten crab
They are the only crab in the UK that is found in freshwater, but may be confused with native species seen in coastal habitats. Usually, they are found burrowing into the sediment banks of rivers and lakes, although adults migrate downstream to breed in estuaries. Their key identifying features are:
Green/grey to dark brown body
Furry, usually brown, claws (although possibly absent in juvenile crabs)
White-tipped claws
Carapace with four lateral sharp teeth
Second-to-fifth walking legs (pereiopods) stout and flattened
Longest segment of legs (the merus) bears a distinct distal spine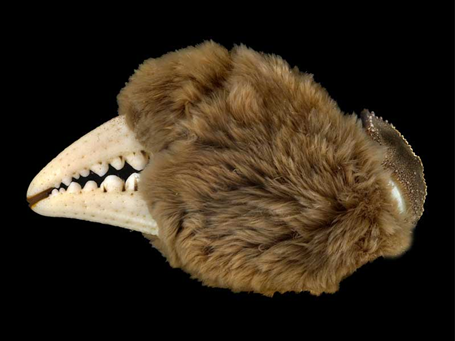 What to do if you see a Chinese mitten crab
If you are able to do so, by reporting your sighting of Chinese mitten crabs you can help to track the spread of this invasive species. Further information on how to do this is at the end of this article. If you find a Chinese mitten crab, government guidance states that you must not:
Keep them in your house, garden or business
Sell them to other people
Exchange them for goods
Release them into the environment
Let them breed or escape
Import them into the UK
Transport them within the UK
Export them to other countries
For more information about identification or accidental capture please contact DEFRA. Defra Helpline: 03459 33 55 77 Email: defra.helpline@defra.gov.uk. You can also use the Non Native Species identification sheet to help identify Chinese Mitten Crabs.
How to report a sighting of a Chinese mitten crab
A sighting report requires a clear photograph of the individual, the number of crabs seen, the exact location, time and date of the sighting. If you have the iNaturalist app (available on iOSand Android), a useful tool to record any wildlife sightings both in the UK and overseas, you can submit the record directly on the app or the iNaturalistUK website.
You can also upload records to iRecord, which like iNaturalistUK, shares the data with the NBN Atlas, a national biodiversity database.
Alternatively, you can email dassh.enquiries@mba.ac.uk with your photograph, location, time and date of the sighting and can record the sighting for you. By adding these data to national databases, we are able to track the spread which in turn helps to inform management activities and protect endangered native species.