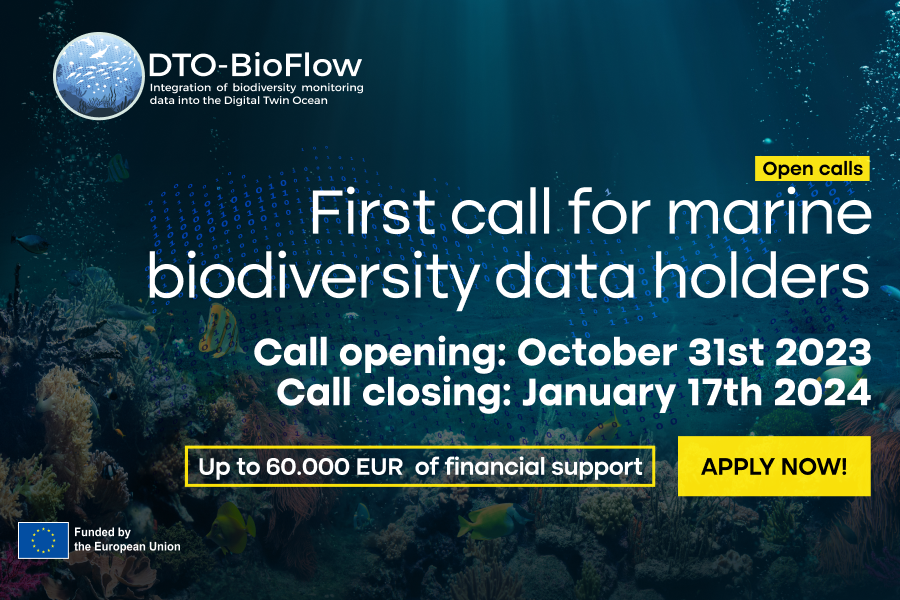 The DTO Bioflow project has issued an Open Call for marine biodiversity data holders to provide sustained and long-term biodiversity data for the European Digital Twin of the Ocean (EU DTO).
The DTO Bioflow project has launched an Open Call for marine biodiversity data holders as part of its exciting development. This call is strategically designed to engage institutions that manage marine biodiversity data, with the primary goal of improving and implementing streamlined workflows and procedures that promote and facilitate the sharing of critical marine biodiversity missing data.
This grant is open to a wide range of marine biodiversity data holders, including European networks, citizen science organisations, research institutes, universities, and non-governmental organisations (NGOs) who can facilitate sustained and long-term ingestion of previously inaccessible data into the European Digital Twin of the Ocean (EU DTO).
The evaluation process is scheduled to occur from January 18th to February 8th, 2024. Eligible proposals will be selected based on multiple criteria, including their relevance, potential impact, ability to sustain data flow and automate processes, uniqueness, and overall proposal quality.
Each third party can access a maximum funding amount of 60,000 EUR. This funding will be distributed in two payments, with half awarded at the start of the project and the other half awarded upon successful completion of the proposed activities.
The MBA data team are involved in a number of different work packages within the DTO-bioflow project reflecting their expertise and global reputation.
The MBA is also leading on tasks within the project including an assessment of currently inaccessible data, looking to identify the barriers and potential pathways to improve the integration of these data.
Don't miss your chance to be a part of this transformative initiative; submit your proposal and contribute to a more comprehensive understanding of our marine ecosystems.
Applications are being accepted until January 17th. Please contact opencall@dto-bioflow.eu or visit the webpage if you have any questions or need further information.